Our Alaska Airlines First Class Experience (Honolulu to San Francisco)
After a luxurious and relaxing stay on Oahu and the Big Island visiting my family members and rejuvenating after the long process of moving apartments in San Francisco (more on that later,) Steven and I were dreading the not-so-luxurious flight back to California. We flew to Honolulu from Hilo and were trapped in the portion of the airport with probably the worst selection of food and drink.
We made our way to our gate, only to be met with the cringeworthy sight of a heard of people filling every single seat with their bulky carry-ons insuring that not an inch of space could be left for us latecomers. When a seat opened up next to an outlet, Steven went for it. As he tried to plug in his phone to charge, he got bombarded by several women trying to fight us for the outlet. I then made my way to the Coldstone Creamery to treat myself to a bit of ice cream, to cheer myself up. I then sadly realized that Coldstone was closed for unknown reasons, and that the rest of the food lines were so long, they would all make me miss my flight.
Feeling deeply irritated, I was so not happy when I came back to Steven and the outlet, only to discover that his phone had barely gotten to charge. When I had left, Steven had been charging his phone on the bottom outlet, and another woman had been charging it on the top outlet. But while I was gone, a second woman had forced the other woman to share the outlet, using a double sided port, and was yapping on the phone while squatting right on top of our charger, unplugging it in the process. After telling her to get the hell off our charger, I looked at Steven who had a big grin on his face. I knew he was up to something.
"What? What happened?" I asked.
He then passed me a new set of plane tickets. At first I was confused, but then I saw that they were bright green unlike the white one I'd been given before and had the words "First Class" printed at the top. I beamed.
Apparently, while I was looking for food, Steven had taken advantage of some open upgrades there were to first class. While he and I had both ridden first class in our youths, this was each of our first times doing so as adults, so it was a very exciting prospect. And considering I had been dreading flying on an empty stomach, this was an incredible surprise. The following is my review of our First Class experience with Alaska Airlines, flying from Honolulu HI to San Francisco CA.
We got to board extremely early along with our other fellow first classmates. Some we could tell were extremely well to do and flew first class often (as proven by he Louis Vuitton luggage in the overhead compartments) and others were obviously just as geeked as we were, having taken advantage of the upgrade.
While I think a footrest could have made the trip a lot easier, the seats were very plush and comfortable. And we had enough leg room that Steven could sit comfortably and I could even pass him to use the restroom without forcing him to move.
The kind of service and attention you get in first class is definitely noteworthy. Instead of sharing a flight attendant with dozens of other people, you pretty much are sharing them with about 7 other couples, making them easily accessible for drink orders.
We were each given a small menu that showed us what would later be served to us during the flight. There was an entree choice of beef filet and the vegetarian option, eggplant lasagna. We of course chose the beef. I was curious as to what an airplane steak would taste like.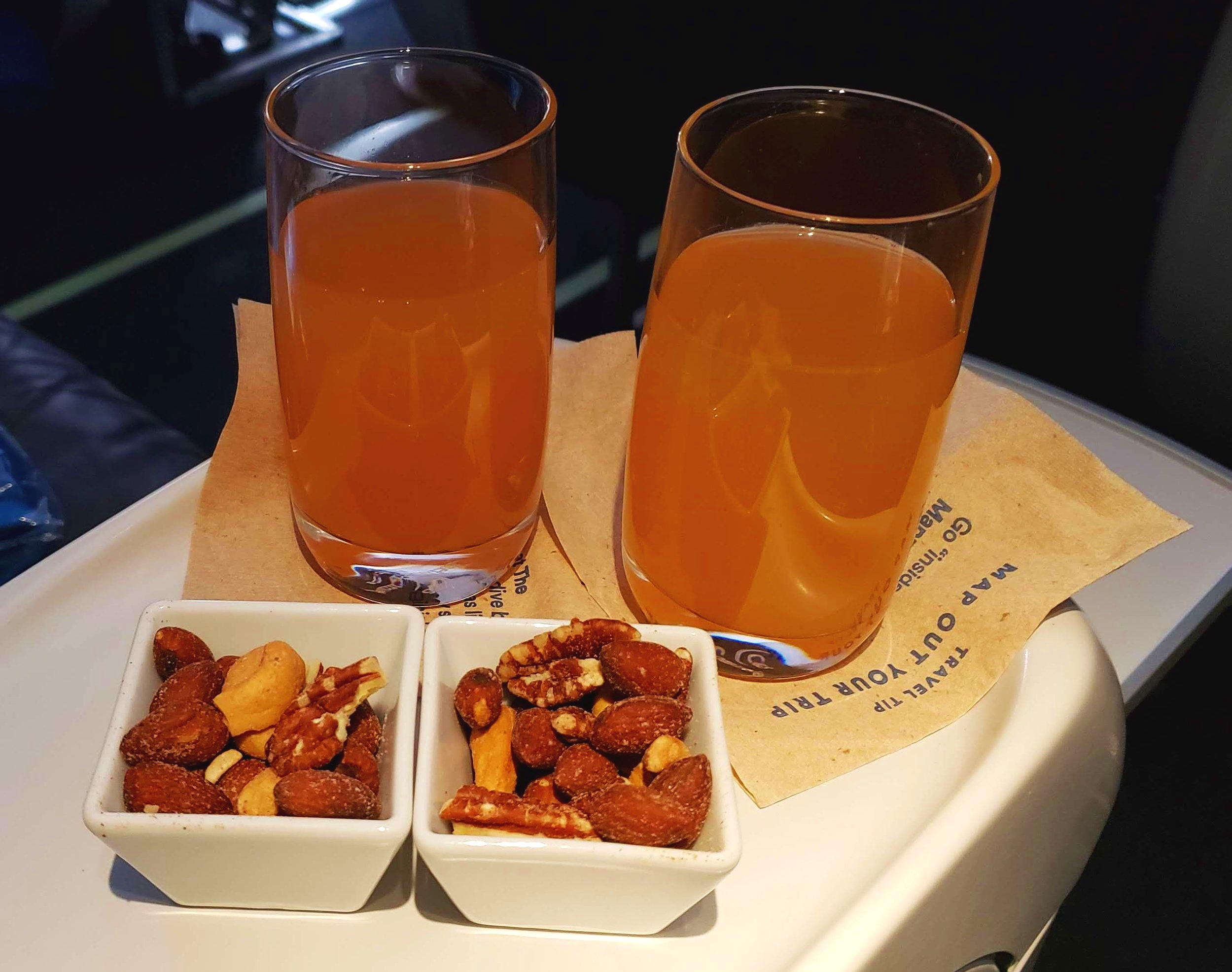 While the other passengers made their way to their seats, we each were served passion fruit mimosas. It was a great touch to our flight out of Hawai'i. And normally, I get sick from the cheap wine served on planes. But this champagne was very high quality.
They were so delicious, that we ordered two more when our hot nuts came. And while I couldn't partake in the almonds and walnuts due to my food allergies, I can tell you that the cashews were delicious. The perfect texture and the right amount of sweetness and saltiness.
While Steven was in the bathroom (which there of course was no line for because the 16 of us had a bathroom all to ourselves,) entertainment tablets were being sold to coach. The woman sitting behind me in first class was offered one. When she asked how much it was, the flight attendant gave a hearty chuckle and said "They're free for you. You're in first class!" She laughed, and I realized that she too was very likely - like us - taking advantage of the upgrade.
When the flight attendant came around to offer me a tablet, I confidently said "Yes and one for my boyfriend too, please" as if I too didn't assume I'd have to pay for them just mere moments ago.
We were provided with a tablet that had movie and TV shows, a charger for the tablet and a pair of headphones. There are some limitations to the to the entertainment tablet experience when you fly overseas. We had no connection to see our flight schedule live on the map, we had no access to live TV and as for the selected movies and television shows available, we only had access to a few episodes of a handfull of TV shows (about a dozen in total,) and the only movies readily available on the tablet without any sort of internet connection were just the new releases. I watched a few episodes of the new Will and Grace series and a bit of The Favourite. Besides that, I just had to will myself to sleep because I personally was not about to watch Mary Poppins Returns or anything Marvel-related.
Just be sure whenever you're flying overseas with Alaska, (or most airlines) that you save some movies on your device from Amazon or download your favorite Spotify podcasts because without it - no matter if you're coach or first class - you'll be pretty limited.
Then our dinner arrived and it was adorable. A 4-course dinner on a tiny little tray, with a small bottle of balsamic vinaigrette and a plumeria placed at the top.
The bread was a sweet roll served with softened butter. The salad was fun to eat with our tiny serving of dressing, the soup was I believe a creamy squash soup, and the steak and potatoes were pretty good for airplane food! The mushroom cream sauce was pretty great, the potatoes were wrinkled to my liking and the steak - while obviously heated twice - wasn't too overdone.
While the best airplane food I've ever had was still an omelette I had on Hawai'ian Airlines 8 years ago, this was pretty great and a total treat to treat the hunger pangs of travel.
Finally, we finished our meal with a container of coconut sorbet. It was a nice touch to our Hawai'i themed meal and refreshing on the long flight.
Below are my Instagram story entries from the trip.
Overall, I thoroughly enjoyed my first class experience with Alaska Airlines. I definitely recommend it to anyone who has the opportunity to upgrade for a good deal. The service was impeccable and the perks are really fun to experience - especially for the first time. Until we meet again!