6 Laundry Essentials that Make My Life Easier
Two months ago, if you had asked me what my least favorite chore was, I would have said laundry. Steven and I live in an apartment complex with communal washers and dryers. Dealing with the filthiness people leave in the machines, having to cross my fingers that none of my neighbors used bleach in the previous load, and lugging all the clothing back and forth through the hallway made this the absolute bane of my existence.
So while on my organizing kick, I decided to purchase some tools that would make my time doing laundry much easier, therefore making it that must less miserable to complete. I now don't mind when that dreaded day comes around. Some of these products have been making my life easier for over a year, and some are quite new to me. But either way, I credit them all with my new pleasant approach to laundry.
1. Aquanova Steel Gray Tur Laundry Bin
When we moved into our new apartment, I was on the hunt for a hamper that would go with our decor, elevate the look of the room, hold a decent amount of clothing and be light and easy to carry around. This was one of the few I found...and we love it. It's beautiful, it's got a nice round opening for us to toss clothing into from across the room, it's got sturdy handles, you have the ability to tie the top off to close it, as seen in the photos. Plus you can remove the lining, making it easy to take the laundry without the whole hamper if you need to, and giving you an opportunity to easily wash the lining so your hamper itself never stinks.
HONEST WARNING: THIS HAMPER IS NOT FOR EVERYONE
If you have children, are a gym rat or just have a lifestyle that requires you to do laundry several times a week, I do not recommend this hamper. It is technically collapsible and stands due to 4 long stilts on the inside that you velcro into the hamper. The velcro tends to come undone if the hamper is handled roughly and you will have to spend some time putting it back together. It's not the best design, but the rest of the hamper is great quality, so you won't have any damage, just slight inconvenience. It's not annoying to me because we do laundry every 10 days or so, but I don't see someone doing laundry daily being too thrilled about this.
2. Kikkerland Dryer Hedgehogs
I never felt the need to add dryer balls to my laundry loads until I saw this fantastic design by New York manufacturer, Kikkerland. As you know, Steven and I are hedgehog people, so we decided to buy them to add to our collection of hedgehog paraphernalia. But after using them a few times, we noticed a positive difference in our laundry routine. And now we're buying a second set in order to do two drying loads at once.
The science behind the dryer ball is that it's spiked (like a hedgehog) and is weighted enough to push around the wet clothing in your dryer around enough to separate fabrics from each other, making the drying process faster and creating less static. And it really works. This saves you on your power bill if you own your own machine, and saves you laundry quarters if you live in an apartment. All for just $8 a set. All I suggest is that you use two per load and not separate them for two loads of laundry. It doesn't work as well with just one. They need to stick together. That's what makes them buddies. If you tend to do two drying loads at a time, buy two sets.
You may have seen these for $14 at your local overpriced boutique. But buy it straight from the maker at Kikkerland's site and it will cut your cost in half. They can sometimes be found for less on Amazon, but Kikkerland has free US shipping, so it's all the same.
3. mDesign Laundry Caddy
If there's anything that makes cleaning easier, it's having a caddy that can properly hold, contain and compartmentalize everything needed for the particular job. And one thing I remember would drive Steven and me nuts is locating all of our laundry accessories.
This caddy is designed to perfectly hold detergent pods, dryer sheets and bottles of cleaner like Shout. We also use it to store our hedgehog dryer balls as well as delicates bags. Now when it's time to do a load, we just have to pick up this and some detergent, and we're on our way.
4. Household Essentials Collapsable Mesh Backup Hamper
Steven used a hamper similar to this one in his old apartment when we first started dating. It was sturdy, easy to carry, and collapsible, should that ever convenience us. We since got a proper hamper for our bedroom, but I decided to later on buy another one of these as a back-up.
We store it under our bed, and bring it out when needed. We use it to separate items on laundry day (keeping lights in our main hamper and putting darks into this one for example) as we don't have room in our bedroom for one of those 3-compartment hampers. We also use it to carry towels and linens the days we visit my parents and do laundry in their nice machines.
I wouldn't use it to carry anything but laundry (no hangers or anything stiff or sharp that might rip a hole in it.) But it was an inexpensive and nice looking solution to our laundry needs. I recommend it to anyone with limited space!
5. Clevermade Snapbasket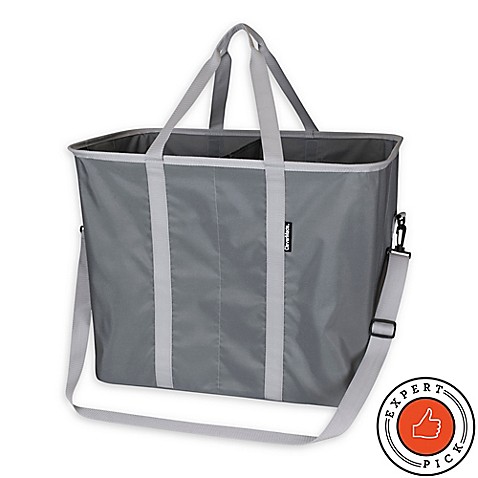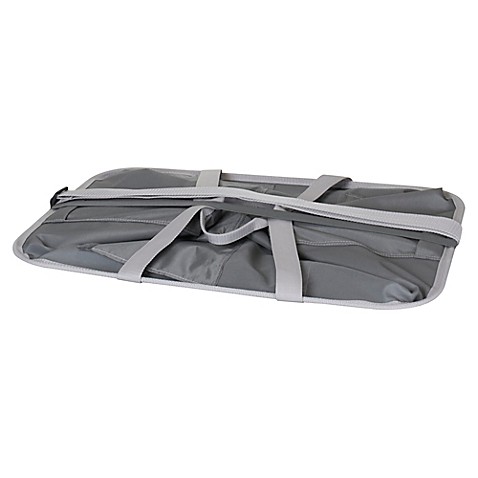 Hampers are great, but sometimes I'm not in the mood to reach all the way in for clothing as I fold. And I'm not about to dump the clothing onto my bed, couch or coffee table to assess things. That's why I purchased a laundry basket. But in my home with my limited space, I needed a collapsible laundry basket that would make my time folding more pleasant, but also disappear when I needed it to. That's when I discovered the Clevermade Snapbasket.
This had crazy good reviews on Amazon and was said to be great for anything from grocery shopping to those crazy retail therapy sessions at Target. So when I visited Bed Bath and Beyond and saw how flat it laid when collapsed, and just how sturdy and satisfying its snap mechanism was, I knew this was the one for me. Steven and I have used it to transport heavy loads of food and home supplies and we are so happy with this purchase.
Check out the video below to watch the Snapbasket in action!
6. FlipFOLD Grey Laundry Folder
For many, it's hard to believe that someone who doesn't own t-shirts exists. But here I stand! It's true, I don't own any t-shirts. But my boyfriend being the techie he is, sure does! He is constantly repping his company and work team with their custom made tees. And that makes t-shirts about 30% of our laundry load. This means that in the past, I've sat there trying to fold t-shirts with pretty much no experience. And as you can imagine, it's pretty rough getting them uniform and flat.
I then decided to buy the beloved FlipFOLD, which you can see work its magic in the tutorial of below. It gets the t-shirts into the same size every time, and thanks to the holes in the product, it presses the shirts flat, to maximize space in your drawers.
I personally like to file Steven's shirts vertically, so that he can easily identify the one he needs from his drawer. See the video below for more info on how to create a shirt filing system. This kind of system takes minutes to set up, and minutes to maintain each laundry day, thanks to the FlipFOLD.
Whether or not you find laundry day theraputic or stressful, I assure you that products like these will improve your experience and make it that much more satisfying to do what you have to do, so you can have more time for doing what you want to do. I've learned that I am more likely to be successful at completing tasks when I have tools that help me through what I struggle with. And if you're the same as me, you can't go wrong with tips like these.